Are you looking for International Moving Companies in Dubai, are you looking for competitive prices for transporting and shipping your luggage or furniture in the UAE, are you still looking for a freight forwarding company that offers you all services from unpacking, installing, packing and shipping? ...
You are here in the right place, as we have been one of the most innovative and organized companies in this specific type of work, providing the most distinguished services in the shipping of furniture, because of your frequent needs in the transfer and shipping of home furniture from the UAE, we've provided this service in its finest, from receiving home furniture up to shipping and delivery to your destination wherever you are around the world.
Services provided by Al Fares Cargo for Moving and furniture shipping from Dubai and the UAE:
Al Fares cargo is considered a leading company in the process of transporting goods from the UAE to different countries around the world. For many years, we have provided an excellent level of packing, packaging and shipping of home, hotel and office furniture from door to door, ensuring safety of movables and complete protection of all content till delivered safely.
Here are some of our main advantages of Moving and Furniture Shipping:
Facilitate the process of home furniture shipping through best service, lowest cost and faster door-to-door.
Provide superior shipping services that can fit your schedule and budget regardless of your busy time.
create the best possible ways to satisfy your wishes of moving, dismantling, installing and packing home furniture with utmost care.
The variety of methods used in the packaging process such as cardboard boxes, wooden boxes, tapes, nylon, bale and other packaging materials that helps to protect furniture and other household appliances, electrical appliances and electronic equipment.
Regular receiving and delivering dates regardless to the quantities of goods shipped, whether the shipment was large or simple.
A large fleet of vehicles for land freight, to help transport home furniture and other items with ease.
Weekly cruises when shipping furniture through sea freight, which gives flexibility in the delivery of goods to various countries of the world, with the lowest possible delivery time to suit your wishes.
Distinctive packaging for furniture, antiques, electrical appliances or other objects to assure the safety of the shipment when delivered.
A professional team that has the skill to complete all procedures for the transport and shipment of furniture and household items, as well as customs clearance.
Professional staff with experience and skills in implementing services in order to reach customer satisfaction.
Door-to-door service using active transport mechanisms to ensure safe transport service in less time and cost possible.
Packing and packaging all types of furniture, offices, houses and villas with the lowest possible sizes, which reduces the shipping costs on the customer.
Providing freight insurance service against shipping risks upon customers' requests.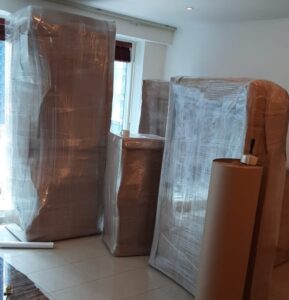 Major Countries which Al Fares Cargo provides Moving and furniture shipping service from Dubai and the UAE to:
Al Fares Cargo Services covers Gulf States: Saudi Arabia, Kuwait, Bahrain, Qatar and Oman. Arab Countries: Jordan, Syria, Lebanon, Egypt, Iraq, Yemen, Libya, Tunisia, Morocco, Djibouti, Mauritania and Algeria. Europe: Germany, Spain, Netherlands, Belgium, Italy, France, Greece, Sweden, Hungary, Romania, Bulgaria, Ukraine, Russia. Countries around the world: Canada, America, Australia, Turkey, New Zealand, Malaysia, Thailand, Singapore, Korea, Pakistan, India and Iran, In addition to the countries of Central Asia and many African countries.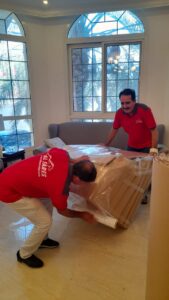 For more information about International Moving From Dubai don't hesitate to contact AlFares customer service!